Our Concept
Walk into any Straw Hat Pizza and you'll understand why our customers love us. Our comfortable dining areas offer a wide-range of seating options (i.e. booths, tables, high tops and bars). Ordering is fast and efficient and delivered to their table. Customers come for the overall experience—to eat, socialize, have fun and enjoy their time with friends or family. Our team is trained and managed to provide the best in customer service and keep our customers coming back.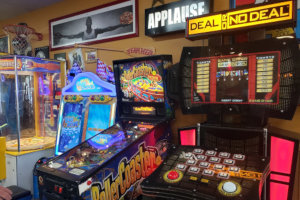 So Many Ways to Grow Revenues
Owners have a variety of avenues available to grow their sales. Our most successful operators are deploying a variety of marketing strategies and using events to differentiate our brand and drive business in the door. Our corporate team provides ongoing assistance to franchise owners with any events, catering, or marketing they pursue.
Dine-in, pickup and delivery
Party room
Catering
Online ordering
Beer & wine
Redemption games for the kids
Vegan and gluten-free options